QUALITY & ENVIRONMENTAL POLICY
We create with responsibility and awareness – with respect for humanity and our planet
All DIYTI products are individually sewn and cut by hand. Our woven patterns require hand cutting and hand fitting of the textile pieces to ensure that the design looks good on the end product. Each of DIYTI's products is unique sewing crafts made with much love to last a lifetime.
Our fabrics are carefully designed to withstand harsh weather and to be durable so that your outdoor furniture or boat interior can be like new for a long time.
Sustainability is one of our most important core values. Therefore, it is natural and essential that DIYTI actively work in accordance with the Sustainable Development Goals where it affects and is affected by our business. Our requirements for suppliers are very clear, and our quality specifications are strict.
DIYTI only deal with companies that use sustainable materials, care about the environment and treat their employees fairly. We are rigorous in choosing the right partners who live up to our environmental policy and product standard.
We are very proud of our selected textile partners and the quality of the fabrics they produce.
Through our production and business model, we can positively influence the Global Sustainable Development goals and sub-goals: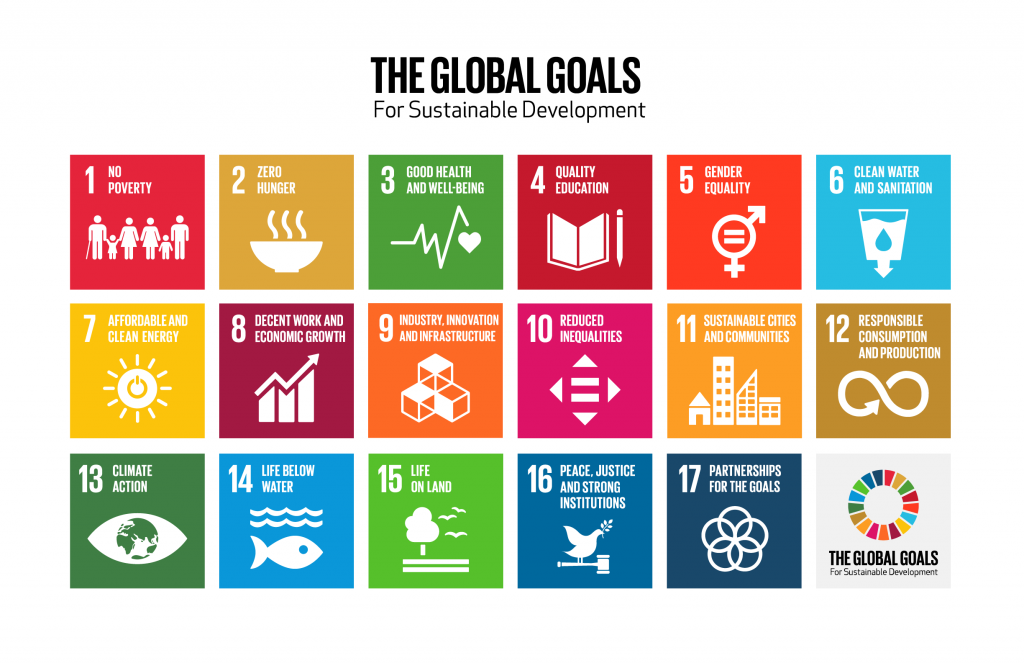 TARGET 6.3- IMPROVE WATER QUALITY, WASTEWATER TREATMENT AND SAFE REUSE
By 2030, improve water quality by reducing pollution, eliminating dumping and minimizing release of hazardous chemicals and materials, halving the proportion of untreated wastewater and substantially increasing recycling and safe reuse globally.
Our textile producer minimize its water consumption through continuous improvements in its facilities and processes and through recycling and reuse of the water used in textile production. In its dyeing process, for example, our producer have reduced water consumption by 30% and in the washing process have reduced their water consumption by 56% in recent years.
TARGET 7.2 -INCREASE GLOBAL PERCENTAGE OF RENEWABLE ENERGY
By 2030, increase the share of renewable energy in the global energy mix substantially.
Sub-goal: By 2030, significantly increase the share of renewable energy in the global energy mix.
Our textile producer create energy balance for its electrical and thermal energy consumption in the textile production through its installation of photovoltaic systems and through its highly efficient gas production. Together, they recycle electricity and heat, corresponding to 91.6% of the factory's total energy consumption (2019). The electricity production in the factory that is generated through renewable energy corresponds to the consumption of 1,125 households per year.
TARGET 8 -DECENT WORKING CONDITIONS AND ECONOMIC GROWTH
DIYTI work for lasting, inclusive and sustainable economic growth. This means, among other things, productive employment with decent working conditions for all. DIYTI demand full transparency from our manufacturers and suppliers and have therefore chosen to work with textile manufacturers and sewing partners in Spain, built on trust, transparency and profesional relationship. By manufacture in the EU we can apply and follow up the strict regulations on quality controls and labor rights that comply with EU business regulations and the Global Goals.
TARGET 8.4 -IMPROVE RESOURCE EFFICIENCY IN CONSUMPTION AND PRODUCTION
Improve progressively, through 2030, global resource efficiency in consumption and production and endeavor to decouple economic growth from environmental degradation, in accordance with the 10‑Year Framework of Programmes on Sustainable Consumption and Production, with developed countries taking the lead.
DIYTI's textiles are made of Polyester, a synthetic textile fiber, an artificial fiber invented and manufactured by us humans. Synthetic materials can last a long time and are often durable. However, the raw material in Polyester and other synthetic materials usually comes from fossil sources where the extraction process has a significant impact on the climate and the environment.
To reduce the environmental impact, DIYTI have created a resource efficiency in our production chain that significantly reduces resource availability by taking all manufacturing steps at the same location and in the same country. This means that the raw material and the end product don't need long transports or pass several countries to become a finished product.
To reduce the amount of microplastic particles released during washing, DIYTI's products have been treated so that they are dirt and water repellent. They can also be ventilated, and if the product is not heavily soiled, stains can be treated with a damp cloth instead of being machine washed.
DIYTI products are adapted to withstand machine washing at lower temperatures to reduce wear on the product and to minimize the number of microparticles released during washing.
TARGET 9 -SUSTAINABLE INDUSTRY, INNOVATIONS AND INFRASTRUCTURE
DIYTI want to invest in a sustainable infrastructure through its careful selection of partners and producers. Our producers ensure that their employees work in a safe and pleasant environment and without harming the local environment. It is of great importance for us to produce our products within the EU with EU-regulated working conditions, in a working environment free from child labor, long working days, poor wages, harmful chemicals, and dangerous working environments. We are very proud of our partner relations and make annual visits to our factories to ensure that our requirements are met and common targets and procedures are followed.
TARGET 12-SUSTAINABLE CONSUMPTION AND PRODUCTION
The brand's purpose is not to create new seasonal collections but to improve and complement your existing interior for maritime environments and outdoor environments. The products are removable and can be washed and reused. They withstand harsh weather and can be used for a long time thanks to their durable material and timeless design. This enables our customers to make smart investments, consume sensibly and reduce overconsumption.
TARGET 12.4 -RESPONSIBLE HANDLING OF CHEMICALS AND WASTE
Sub-goal: By 2020, achieve environmentally friendly management of chemicals and all types of waste throughout their life cycle, in accordance with agreed international frameworks, and significantly reduce their emissions into the air, water, and soil in order to minimize their negative consequences for human health and the environment.
Our textile producer handle the waste generated by the recycling business. The sludge from the treatment plant can be recycled and reused in agriculture.
They have also received the Textile Technology Institute AITEX sustainability award in 2019 for their environmental management and the efforts made in recent years to develop their products and sustainable processes.
TARGET 12.5 -REDUCE THE AMOUNT OF WASTE SIGNIFICANTLY
Sub-goal: By 2030, significantly reduce waste through measures to prevent, reduce, reuse and recycle waste.
Our textile manufacturer have, among other things, developed and streamlined their waste management and water treatment process with the help of a biological sewage treatment plant. They have also introduced a sludge treatment system that does not need water but presses the waste and has a monitoring facility for continuous control measurement and slag products analysis.