MACHINE WASHABLE FABRICS
Keep your new cover looking sharper for longer
Our high-quality fabrics are treated to be stain-repellant and are designed to look new for long. All covers can be removed and machine washed at low temperature .
Read more about how to take care of your DIYTI cover and cushion in our detailed Care guide here;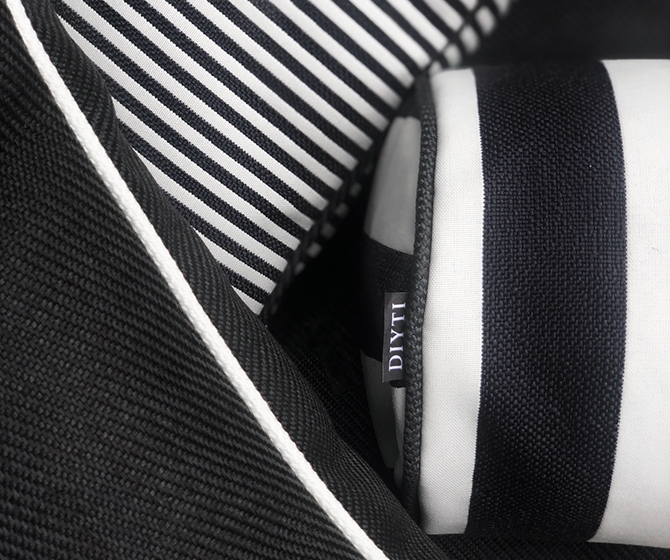 FAQ
Answers to your most burning questions
Does DIYTI have any care instructions?
Off course! We want your DIYTI products to last for generations and in our care instructions you will find all the details you need for your new covers to look sharper longer. Read the guide here
How do I machine wash my covers?
Each textile product from DIYTI is treated with stain protection and with a damp cloth, most stains can be wiped away. 
If you wish to machine wash the cover, do it at low temperature and use a mild liquid detergent, free of bleach or brightening agents and be sure to follow the washing instructions printed on the inside label of your cover. 
Here are some important steps to follow for machine washing:
Close all zippers on the covers before washing and use a washing program for delicate washing. Set the temperature to max. 30 degrees Celsius.
Turn the cover inside-out before loading into machine.
Use a mild liquid detergent free of bleach or brightening agents as these can cause spots and fading. 
Don't use fabric softener. This will permanently alter the look and feel of your fabric. 
Don't overfill the washing machine. Complete the wash in several loads if necessary.
Use the same washing program for multiple loads. Using different programs may result in color differences.
Always include a low/delicate Spin Cycle at the end of your washing program. 
Always line dry at room temperature. Never dry in the tumbler or with heat.
The cover can be ironed at low temperature. Iron only on the top of the fabric. 
How do I remove stains and dirt from my pillows or cushions?
All our fabrics come with stain protection. These are designed to repel everyday water and oil-based liquids, giving you extra time to treat your fabric before the liquid seeps into the material.  
To avoid permanent staining, treat spills immediately with warm, soapy water. Use a clear, mild soap or cleaning agent and never use bleach or detergents with bleach.
Dry spills or dirt can be brushed off.
Stain removal instructions: 
Scrape or brush away dried dirt from the fabric. 
Apply some water mixed with a few drops of neutral soap or liquid detergent on the stain and rub with a wet cloth in circles until the stain disappears. If the stain does not disappear immediately, repeat this step.
Personal service
OTHER QUESTIONS?
We're always happy to help, just mail us your question or feedback at hello@diyti.com